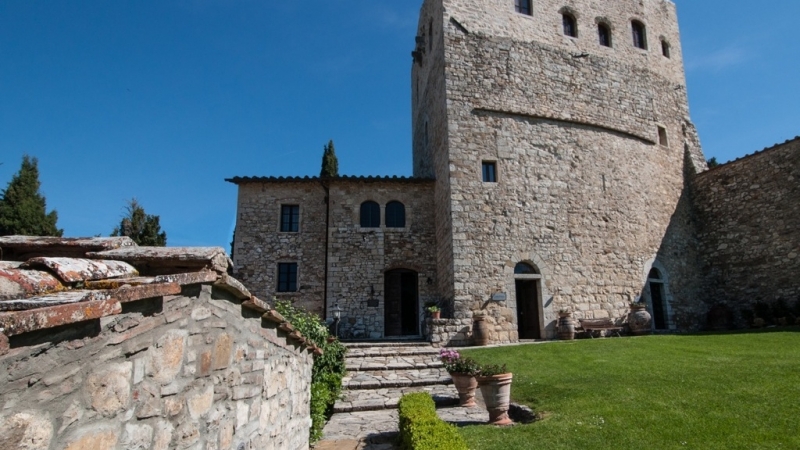 Gaiole Castle in Chianti (One of many Italian luxury rentals) , Siena, Italy — $2,900 Euro to 8,500 Euro per night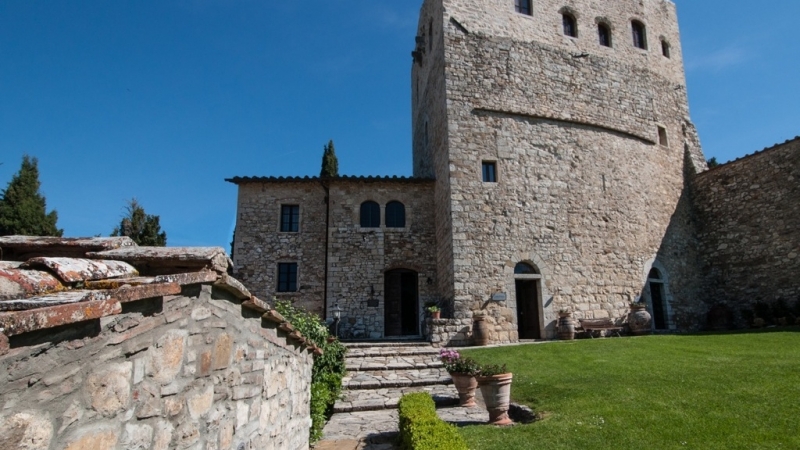 Details
10 Beds
10 Baths
21,528 Sq Ft
295 Acres
Representing Seller
Once an ancient castle, this Property is situated amidst a relaxing rolling countryside, just minutes away from the medieval towns of the famous Chianti region. The property dates back to the 11th Century, it has been fully restored by the current owners. Surrounded by vineyards, the entire property, 120 hectars (295 acres) of fenced grounds, provides absolute peace although it feels remote and private, the property is within easy reach of attractive sites and medieval villages of the Region and offers some unique vistas on the Chianti hills.
The residience is filled with antiques and paintings, guests can feel the noble atmosphere of a castle, yet being able to enjoy all the modern amenities and comforts. The Borgo around the Castle features comfortable and spacious apartments in a classical Tuscan "Rustico" style with modern amenities. The interior is airy and welcoming and has been decorated in a sumptuous style. !
GENERAL INFORMATION
The property features wi-fi in rooms
The property features a swimming pool
The property features air conditioning in some bedrooms (Castle And Tower)
The estate is 360 meters above sea-level and it is 7 kilometers away from the medieval Town
The property offers 2000 square meters of living space and 120 hectars of exterior spaces
20 adults and 6 kids is the maximum number of guests the property can accommodate!
COMPOSITION OF THE ESTATE
The Castle + Dependence (Same Quality) + The Borgo (Same Quality, No Air
Conditioning) + The Colonica Farmhouse (No Air Conditioning) + Staff Quarters!
THE PROPERTY OFFERS
2 Master Suite Bedrooms with en-suite bathrooms and double sofa beds (shower/tub)(double sinks/Jacuzzi) - 8 Double bedrooms with ensuite bathrooms (tub/shower)
AMENITIES
Air Conditioning in bedrooms - Automatic night illumination - Bar & Lounge - Chapel (consecrated) - CD player - Flat screen Televisions in some bedrooms - Flat screen Televisions in living rooms - Gated - Large covered dining area for all guests dining together - Outdoor BBQ Grill - Outdoor Swimming Pool - Private Tennis Court - Private Wine Cellars - Professional kitchen (staff use only) - Tennis - Table tennis/ping pong - Wireless Internet in living areas - Equestrian Facilities - Winery with conference room (on the premises)